Stepped Oak Fireplace with Hamilton Cast Iron Fascia
Was £780
Call 0121 773 8833 or FreePhone 0800 0199 008 to Order
Stepped Oak Fireplace with Hamilton Cast Iron Fascia.

A contemporary design often revered for its unmatched character, quality and style. The Hamilton cast iron fascia enhances the bold, strong lines of the stepped oak fire surround and reveals a stunning level of detail and quality found only in a natural, raw material such as oak. The symmetrical features of your new fireplace package will draw guests around your new focal point and provide a popular topic of conversation as well as a comforting feature to return home to on those cold winter nights. All of our oak fire surrounds are made in our own workshop based in Birmingham, allowing us to tailor specific measurements to your specifications so there is no need to worry. Place your order by giving us a call now on 0121 773 8833, Mick or Danny will happily answer any questions you may have and guide you through our simple ordering process.

(Cast iron has a standard cut out to fit most electric or gas fires)

What's Included?

Stepped Oak Fireplace (54" or 48" Mantel)
Hamilton Cast Iron Fascia Highlighted
Granite Hearth (54" or 48")

Fireplace Dimensions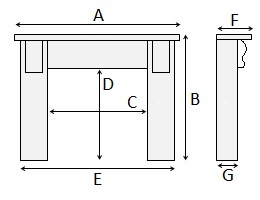 | | | | |
| --- | --- | --- | --- |
| | 54" Surround | | 48" Surround |
| | | | |
| A: | 1372mm (54") | | 1220mm (48") |
| B: | 1142mm (45") | | 1142mm (45") |
| C: | 890mm (35") | | 838mm (33") |
| D: | 890mm (35") | | 890mm (35") |
| E: | 1292mm (50.75") | | 1140mm (44.75") |
| F: | 140mm (5.50") | | 140mm (5.50") |
| G: | 100mm (4") | | 100mm (4") |
Cast Iron Dimensions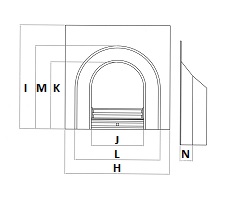 | | |
| --- | --- |
| H: | 940mm (37") |
| I: | 940mm (37") |
| J: | 425mm (16.50") |
| K: | 570mm (22.50") |
| L: | 790mm (31") |
| M: | 850mm (33.50") |
| N: | 75mm (3") |
Hearth Dimensions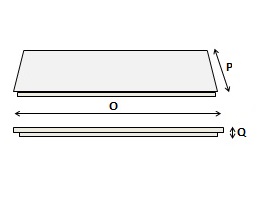 | | | | |
| --- | --- | --- | --- |
| | 54" Hearth | | 48" Hearth |
| | | | |
| O: | 1372mm (54") | | 1220mm (48") |
| P: | 380mm (15") | | 380mm (15") |
| Q: | 50mm (2") | | 50mm (2") |
'My confidence in my products is so high you don't pay a penny until your fireplace is delivered to you.'
As there is nothing to pay untill your items are delivered ordering is easy, just email or phone me with the items you want, your name, a delivery address and contact number. I will then confirm your order. I will then contact you when your order is ready to arrange a date and time for delivery.


Based in the Midlands I provide delivery to most parts of mainland UK by my own dedicated drivers and vans.

As my products are made to order please allow up to 2 weeks for deliveries to England and Wales and up to 4 weeks for delivery to Scotland.

Delivery is Free of Charge.


| | |
| --- | --- |
| Payment can be made on deilvery by cheque, cash, BACS (internet banking) or any of the cards below | |
| | |
I can be contacted by email via mick@castironfireplace.co.uk
alternatively you can call me on 0800 0199008 or 0121 773 8833
Mick Stanford - Managing Director
Reviews / Comments
No reviews have been made for this product.